THE PROPOSITION
A European production and exploration company approached us to test and supply and wax and asphaltene inhibitor for use on a producing asset. Typically wax and asphaltene deposition would be so great that the well control staff would note increasing pressures after 12 hours of operation. After 72 hours automatic shutdown would occur due to over pressure from wax and asphaltene deposition.
TESTING PROCEDURE
ASTM Visual appearance testing was carried out to determine the wax appearance temperature (WAT) coupled with an in house low/sub micron filtration technique. Typical wax and asphaltene characteristics were determined and suitable inhibitors tested.
TEST RESULTS - As you can see the top samples are un-treated and bottom are treated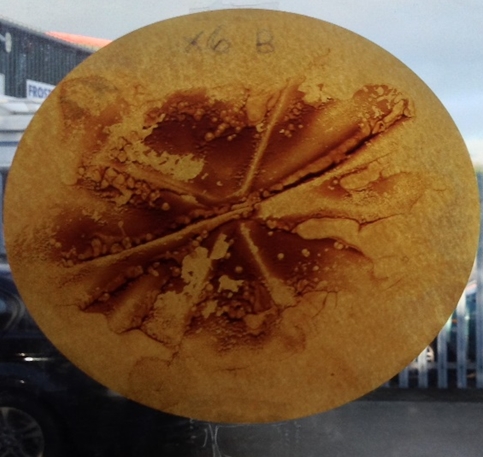 The samples were dosed with the chosen products, heated and cooled according to operating temperatures and the depositions noted via low micron filtration.The wax and asphaltene deposition experienced at operating temperatures was reduced to zero when treated with the chosen product (right) versus untreated (left).
The chosen product showed excellent wax and asphaltene dispersion (bottom) vs the untreated sample (top) even when cooled below the typical WAT.
THE CONCLUSION
In order to treat the wax and asphaltene problem a chemical treatment was applied. The treatment involves a dispersing agent that alters the polarity of the processing oil. This prevents the wax and asphaltene molecules from nucleating. By preventing the nucleation stage, the wax and asphaltene components cannot reach a critical and stable size within the fluid, thus preventing wax deposition. The crystalline wax structure is modified to prevent surface adherence and further prevent wax and asphaltene growth.
Once the treatment was applied, the well remained producing with no interference from wax and asphaltene growth.
For more information on this treatment please contact us directly using the form below :