H2S Treatment of Produced Water using Sulfalux CT-21-02
The target H2S requested by our Middle East client is set to be below 50 ppm for safety of the personnel and to negate damages to the environment, as well as to minimize the risks during the transfer of the water to the refinery.
The currently used H2S scavenger product ST1-X was proving to be ineffective and also detrimental to ST1 operations. ST1-X, caused instant precipitation of a white substance which solidifies when dried. The formation of this byproduct is instantaneous, which greatly reduces the product's performance, making it ineffective in H2S treatment for produced water.
The same precipitation recently caused blockages inside the produced water lines, resulting in a production shutdown until the matter was resolved. The water inside the storage tanke, which has not been changed or moved for 24 hours had a record high level of 690ppm H2S at the time of introduction to the tanks.
Well Conditions
Production: 4000 bopd with an API: 37.7

Temperature: 150F at LP outlet

Amount of

H2S to be treated at 348ppm

Density: 0.834 kg/m3

Water Cut: 3.5%

Dosing Point: LP Separator Outlet

Testing Method: ASTM D7621 - 12 Standard Test Method for Determination of Hydrogen Sulfide in Fuel Oils by Rapid Liquid Phase Extraction

Testing apparatus: Dräger tubes for H2S

(7% and 40% for blanks)
Aim of the Treatment
Drop H2S level in produced water >350ppm to <20ppm

No salt precipitation
Lab Testing & Full Scale Field Trial
In order to ensure no fouling, as occurred with the current, competitor product, solubility testing was conducted. The result of the laboratory tests and upon mutual agreement, a shipment of CT-21-02 has been brought to ST-1 site for further field trials and conducted in joint operation.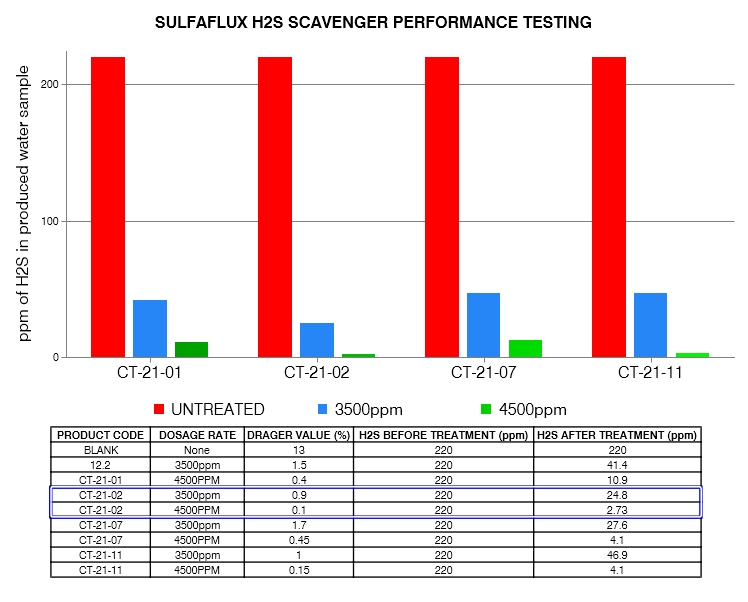 In order to ensure no fouling, as occurred with the current, competitor product, solubility testing was conducted.
H2S Scavengers are qualitatively added to produced water collected from V101 outlet. Physical appearance is observed. Incompatible products were removed from the testing. A preliminary bottle test was conducted to eliminate products showing more than 50 ppm of H2S left at 4000 ppm dosage rate .Any product showing more than 50 ppm H2S remaining was eliminated from further testing.
The calculations show that 50 ppm of H2S remaining equals to 1,8% on a 7% Dräger H2S Test Tube. Test were conducted for each approved sample at three dosage rates 3500ppm and 4500 ppm.
Conclusion from laboratory testing
Due to the impressive results achieved- all the samples had achieved the minimum
Extended Field Trial & Constant Supply
To date CT-21-02 is being used on this site at the most efficient dosage rate of 2300ppm and is achieving less than 10ppm which is well below the pre-determined 50ppm safe working limit set by the customer.
Graph to show CT-21-02 Performance on site at Full Production - 4000bopd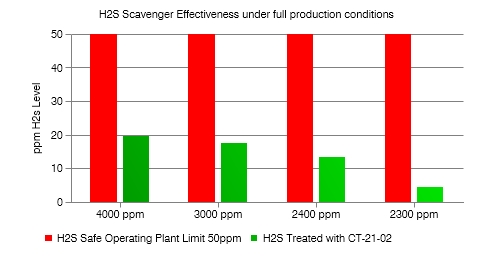 Key Factors
Lower H2S levels from 348ppm to below 20ppm

No salt precipitation.

Reduction in chemical consumption for the site from 5000ppm to 2300ppm with lower H2S.

Since the introduction of CT-21-02 there have been no instances of out of specification for the plant in regards to H2S consent limits.

Zero instances of lost production due to H2S.

Health & Safety requirements lower than previous product.

Environmentally Friendly Approach.
For more information on this range please complete the form below or alternatively please call +44(0) 1704 894808 to speak to one of our technical team.